ENTREPRENEDU Team got accepted to the 74th International Astronautical Congress which took place in Baku, Azerbaijan from 2nd till 6th of October 2023.
About the event
The International Astronautical Congress (IAC) is an annual global event in the field of space exploration and technology, attracting over 6,000 participants. It serves as a platform for professionals, scientists, engineers, and enthusiasts to exchange knowledge, showcase advancements, and discuss space-related topics. The IAC includes presentations, panel discussions, and exhibitions, offering insights into the latest trends and developments in space. It facilitates networking and collaboration among a diverse audience of space industry leaders, scientists, researchers, policy-makers, and young professionals. The event covers various space sectors and features a wide range of associated activities.
Unveiling ENTREPRENEDU best practices
ENTREPRENEDU team has submitted a paper on Enhancing the European Entrepreneurial ecosystem by closing the gap between high and low/moderate innovation regions: The ENTREPRENEDU case paper written by: Valerio Roscani, Lorenzo Scatena, Eleonora Lombardi, Achilleas Barlas, Katrin Singer-Coudoux, Henry Nicolai Buxmann and Abel Fernández was presented by Valerio Roscani on 24.10.2023 in the Baku Convention Center during the session "In Orbit – Postgraduate Space Education" whose aim was to focus on innovative space education and outreach programmes for postgraduate students.
The Experience
ENTREPRENEDU project was presented in front of an audience of students, communication experts, professors and managers of space-themed education programmes. The presentation helped to make the project known in an international context in terms of networking and visibility.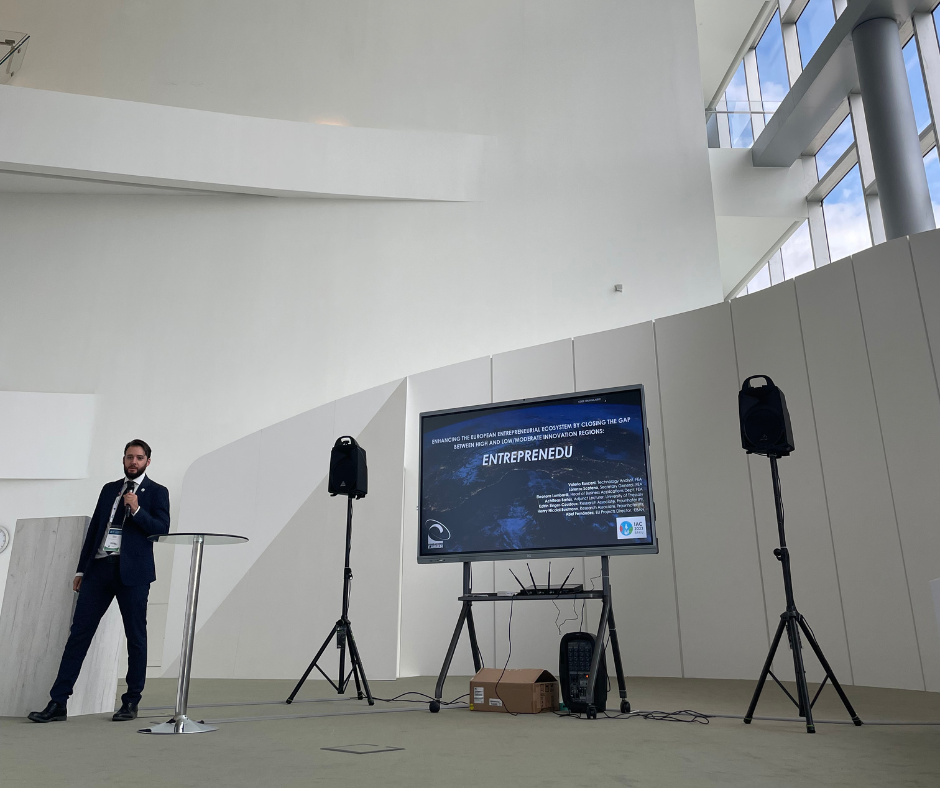 Until the next adventure!
ENTREPRENEDU Team